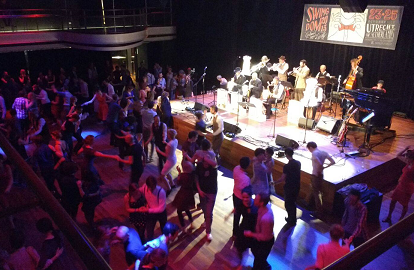 The Kalishnikovs is an awesome swing band, which play the original '30-'40 Lindy Hop tophits. Our passionate musicians swing with their heart and soul, they know how to create the right atmosphere for keeping the dancers moving! No matter if you are a beginner, an experienced or an advanced dancer, everybody feels the vibe when we start to play. Since we are a small band, we perform in any setting, from a pub, an outdoor jazz event, even to a dance palace!


Background (for DUTCH and GERMAN texts see below):
About the history of the band.. well.. nobody really knows what happened, but this is a good story....
...it all began years ago... Vaslav Kalishnikov was born and raised in a circus-family, in that day and age a very hard life. He was a trumpet player in the circus band, but he was recruted for the Russian army during the first world war. He was called to the front to fight the germans where he was caught as a prisoner of war and put in camp Lodz, Poland. He escaped to Holland with help by the Russian embassy in the Hague, where he was given 40cts a a day to survive.  He fell in love with the tea lady, Marieke Toot and together they went to live in Eindhoven where he worked in the gas factory. They married and were blessed with 8 children. In the evenings father Kalishnikov would teach his children music. They all seamed to have inherited their fathers talent. It was in their blood... These children grew up and started their own families, and now, almost 100 years after, his grand-grand-children keep the family tradition alive…
- - -
In het Nederlands: 
De Kalishnikovs is een kleine big band die gespecialiseerd is in '30-'40 swing muziek voor Lindy Hop dansers. Of je nu net gestart bent met dansen, al meer ervaring hebt of al jaren danst, als wij spelen heeft iedereen het geweldig naar zijn zin. Omdat we een kleine band zijn, passen we op ieder podium, van een kroegje, een buitenoptreden, tot een grote danszaal!   
Over de geschiedenis van de band.. hmm.. niemand weet het precies, maar dit is een goed verhaal....
…het begon allemaal jaren geleden… Vaslav Kalishnikov groeide op in een circusfamilie, wat in die tijd een hard leven was. Hij speelde trompet in het circusorkest, maar hij werd gerekruteerd in Rusland tijdens de Eerste Wereldoorlog. Hij werd als dienstplichtige opgeroepen voor de strijd tegen de Duitsers, werd krijgsgevangene en opgesloten in kamp Lodz, in Polen. Hij wist te ontsnappen met hulp van de Russische ambassade in Den Haag, en kreeg 40 cent per dag om te overleven. Hij werd verliefd op de thee serveerster, Marieke Toot, en kwam te werken in Eindhoven bij de gasfabriek. Het huwelijk werd gezegend met 8 kinderen. 
's Avonds kregen ze muzieklessen van vader Kalishnikov. Ze bleken allemaal hun vaders muzikale talent te hebben geërfd. Het zat in hun bloed... De kinderen groeiden op en kregen hun eigen familie, en nu, zo'n 100 jaar later, houden hun klein-kleinkinderen de familietraditie in ere..
- - -
Auf Deutsch:
Die Kalishnikovs spielen vorwiegend Swing der 30er und 40e Jahre für Lindy-Hop-Tänzer. Vom Anfänger über den erfahrenen bin hin zum fortgeschrittenen Tänzer… jeder kommt auf seine Kosten, wenn die Band aus Eindhoven loslegt. Als kleine Big Band sind sie flexibel einsetzbar - in einer Kneipe, auf Jazzveranstaltungen unter freiem Himmel oder gar im Ballsaal!
Was die Geschichte der Band angeht.. nun ja.. niemand weiß, wie es genau war, aber die Geschichte ist trotzdem ziemlich spannend. 
Alles began vor vielen Jahren. Vaslav Kalishnikov wuchs in einer Zirkusfamilie auf, was damals ein hartes Leben bedeutete. Er spielte die Trompete in der Zirkusband, wurde aber während des Ersten Weltkrieges von der Russischen Armee rekrutiert. Er wurde an die deutsche Front geschickt wo er gefangen genommen und in ein Lager in der polnischen Stadt Lodz gesteckt wurde. Mit Hilfe der russischen Botschaft in Den Haag gelang ihm die Flucht in die Niederlande, wo er sich kaum über Wasser halten könnte. Dort verliebte er sich in Marieke Toot, die ihm immer seinen Tee servierte. Sie heirateten und wurden min 8 Kindern gesegnet. Abends versammelte Vater Kalashnikov seine Kinder um sich und brachte ihnen Musik bei. Offensichtlich hatten alle die Begabung ihres Alten geerbt. Sie hatten die Musik im Blut… Die Kinder wurden erwachsen und gründeten ihre eigenen Familien. Heute, nahezu 100 Jahre später, führen Kalishnikovs Urenkel die Familientradition weiter...